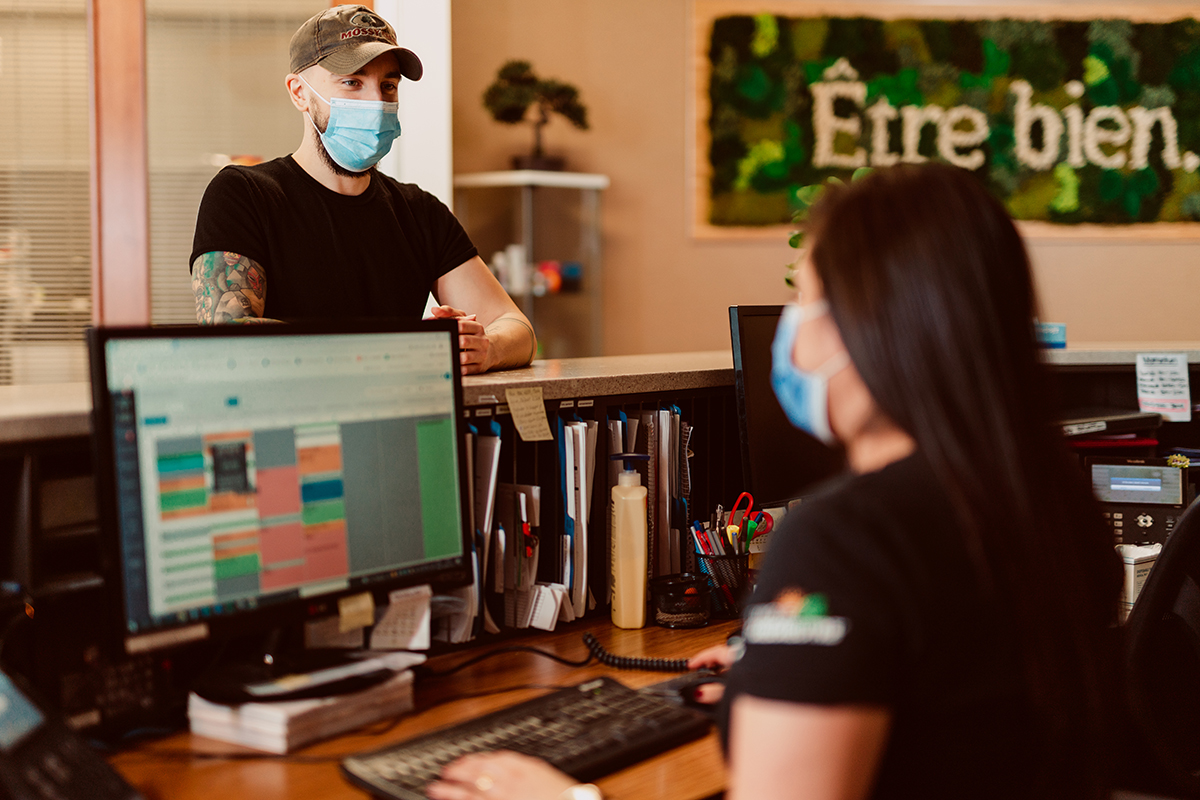 We are looking for a receptionist!
Part-time permanent position : Thursday (evenings) – Schedule subject to change.
Do you care about good customer service? This position is for you!
Students are welcome!
5 good reasons to join the wonderful Ekinox team:
We value your life balance. #Bewell.

An inspiring and interdisciplinary team. We promote collaboration for the well-being of our clients!

Modern and bright facilities. Come visit our clinic, you won't be disappointed.

An environmental conscience (we are the first carbon neutral physiotherapy clinic in Quebec!)

Our outstanding involvement in the Vaudreuil-Soulanges community and the region's sports teams.
Your key activities and responsibilities:
Handle incoming calls and respond to requests made by telephone.

Transfer calls to the appropriate people, take appropriate messages when necessary, and ensure the message is delivered to the recipient.

Greet, help and assist customers and visitors.

Ensure that the waiting room (front desk) is clean and organized at all times.

Charge customers.

Respond to emails sent to the generic clinic address.

File and retrieve client records

Print and distribute therapist schedules.

Balance the cash register.
Our future receptionist:
Education: High school diploma, DEP or diploma in secretarial or administrative work. Any other combination of education and experience will be considered.

No experience required, customer service an asset.

Ability to communicate effectively in French (spoken and written) and English (spoken).

Other requirements and knowledge:
– Proficiency in MS Office Suite
– Very comfortable with computers


– Knowledge of Medexa software (an asset)
Our ideal candidate:
Provides a warm welcome, is smiling (smile in the voice), demonstrates a positive attitude;

Demonstrates attention to detail and thoroughness, good organization skills;

Willingness to help and ability to work in a team;

Ability to multitask;

Demonstrates discretion and reliability in handling confidential information.
About Ekinox
Our dedicated and interdisciplinary team of over 30 professionals believes that prevention is just as important as rehabilitation by offering services in physiotherapy, occupational therapy, osteopathy, massage therapy, psychology and much more.
The well-being of our employees is at the heart of our corporate values. We are pleased to welcome you to an inclusive team with integrity that allows you to surpass yourself. Our active listening is tinged with a sincere investment in our thoughts and actions.
With our human-centered practice and personalized approach, we inspire healthy living habits that promote the overall development of each individual.
Our impact extends beyond our clients to our community. Our presence and involvement in the community allow us to be the vector of well-being that generates positive social and environmental impacts. On September 21, 2021, we became the first carbon neutral physiotherapy clinic in Quebec!
To learn more, visit the page The Clinic.
Are you ready to join an inspiring team?
Join a team that cares about the physical and mental well-being of its clients, employees and by extension, its community!
We are looking forward to meeting you!