Osteopathy
Osteopathy is a manual approach that considers the person as a whole
The osteopath can prevent and relieve many discomforts and aims to restore the balance between all systems of the human body.
Book an appointment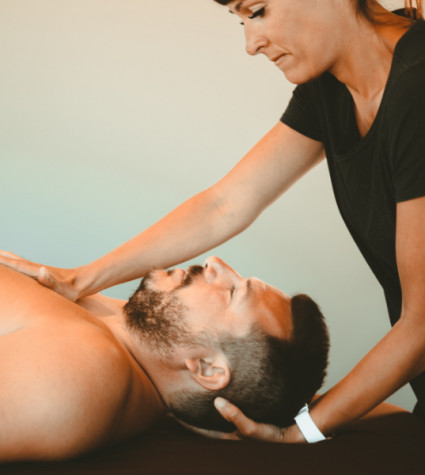 What is osteopathy?
What is osteopathy? 
"Osteopathy is a manual approach whose objective is to restore the functionality of the structures and systems of the human body in order to optimize its capacity for self-regulation. This practice is based on a thorough knowledge of the health sciences and the interactions specific to the balance of the body."
Quote from Osteopathie Québec (https://www.osteopathiequebec.ca/fr/quest-ce-que-losteopathie)
Osteopathy can prevent and relieve many discomforts in the neck, head, back, stomach, sleep-related problems, etc. Through gentle and precise manipulations, the osteopath aims to restore the balance between all the systems of the human body.
Prevention and improvement of the quality of life are therefore at the heart of this approach which promotes global health and well-being. Osteopathy allows us to regain a better balance and optimal functioning.
What happens during an appointment? 
During the first meeting, a complete and global evaluation of your state of health and the discomfort that brings you to consult allows the osteopath to investigate the cause of neuro-musculo-skeletal, visceral and cranial dysfunctions. This information guides the osteopath in their evaluation through palpation.
What is the difference between osteopathy and physiotherapy?

The difference is mainly between the philosophy and the fields of expertise of each of these professions. If both can help you and are complementary, then it is a matter of personal preference. Therapists know their areas of expertise and can refer you to another discipline when necessary. This is the main advantage of our interdisciplinary team!

Who is this service for?

Osteopaths work with people of all ages, from infants to the elderly. A wide range of people use osteopathic services whether it is during a convalescence or a rehabilitation period. Athletes can also meet with an osteopath to relieve various discomforts in the muscles and tendons.

Osteopathy can also help relieve tension on the body during pregnancy and even works with postpartum and newborns. In fact, osteopathy is a gentle approach to treating children and babies at all stages of development.
Our professionnals
Louise Denoncourt

Osteopath

Muriel Mouneyrac

Osteopath

Véronique Bertrand

Osteopath and Massage Therapist