Occupational Therapy
Driving Assessment
Do you need to provide a driving assessment by an occupational therapist at the request of your doctor or the SAAQ?
When injury, disease, illness or aging potentially affect one's ability to drive, a comprehensive driving evaluation should be completed with an occupational therapist.
Book an appointment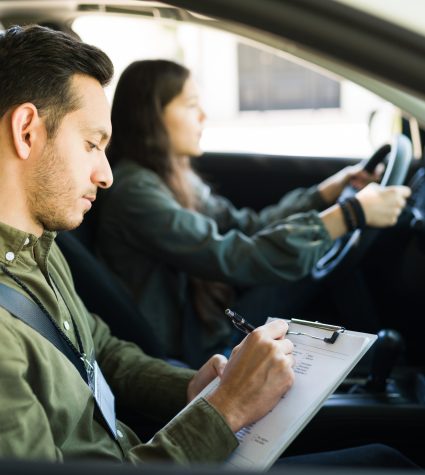 Driving Assessment by an Occupational Therapist
Has your doctor requested a driving assessment by an occupational therapist after a medical diagnosis and/or surgery?
Have you received a notice from the Société de l'assurance automobile du Québec (SAAQ) asking you to provide an assessment with an Occupational Therapist?
If so, then you are at the right place, and we offer this service at our clinic in Vaudreuil-Dorion.
What happens during an appointment?
There are two parts to a comprehensive driving evaluation. One is done in clinic and the second is done on the road. Both assessments are done on different days.
Part one: Clinical evaluation (120 minutes)
The occupational therapist begins the evaluation by determining the effects that your medical condition, medications and functional limitations may have on the driving task. The occupational therapist also takes a driving history, notes the type of vehicle driven, and discusses potential adaptive driving equipment if needed.
A physical screening that includes range of motion tests, strength tests, balance test, proprioception and visual tests will be performed.
A cognitive screening will also be done which includes a memory test, problem-solving ability, speed of reaction time, road signs and road scenarios' judgment test.
Part two: On-road evaluation (60 minutes)
The occupational therapist, in addition to a driving instructor, will use the driving instructor's car to undergo the road test with you. Unfortunately, you may not take your own car. Do not worry, as time will be provided at the beginning of the assessment to familiarize yourself with the driving instructor's vehicle.
Some aspects that will be assessed during the on-road test include;
• Physical ability and endurance
• Ability to be aware of potential hazards
• How effectively you use your eyes, look around when you are driving and able to take in the information correctly, make sense of it and act appropriately.
• All responses to the traffic environment.
Based on all the information gathered during both parts of the evaluation, the occupational therapist, in collaboration with a driver instructor, interprets results and makes recommendations based on performance strengths and limitations as well as on driving potential.
A report is issued to both you and SAAQ. In the event, that you do not succeed, the occupational therapist will provide you with recommendations and alternative strategies to either help you become a safe driver or find other means of transportation.
The SAAQ ultimately makes the final decision after receiving documents from a medical doctor, optometrist/ophthalmologist and occupational therapist.
Did you know?
According to the SAAQ, very few people—approximately 1%—lose their licence following the medical examination and vision test.

Slightly less than 50% of drivers who take these tests have to comply with certain conditions, such as: avoiding driving at night, wearing contact lenses or glasses, driving a vehicle equipped with an automatic transmission, etc. (SAAQ).

Once you turn 80, and every two years thereafter, you will have to undergo a medical examination and a vision test carried out by a health care professional (SAAQ).