Massage Therapy
Attentive to you and using a variety of techniques, our qualified massage therapists offer you caring treatments adapted to your needs.
Did you know massage therapy is proven to improve mood, reduce stress and anxiety, and provide a sense of well-being and relaxation?
Book an appointment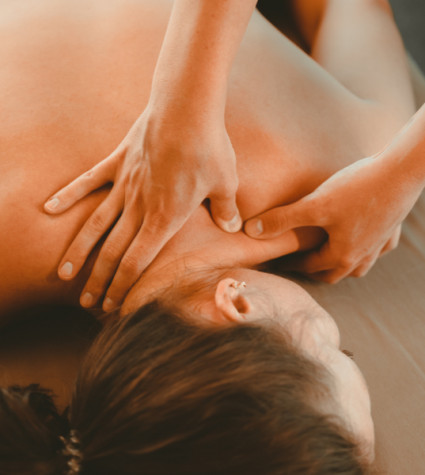 A local clinic
In Vaudreuil-Soulanges, our passionate massage therapists make the difference when it comes to muscular tensions. Dedicated and all members of an association recognizing their practice (AMPQ-PMAQ, FQM, etc.), they put their expertise at your service to help free you from your discomforts.
What happens during an appointment? 
A massage therapy session lasts 30, 60 or 90 minutes in a calm and relaxing environment. During the first appointment, the therapist will assess your overall health. Depending on your goals, the massage therapist will focus on a specific area of the body or on a complete body treatment.
Treatments vary, as there are many different massage techniques. Treatments can be relaxing, but sometimes they may be more uncomfortable due to deep tissue techniques to help relieve muscular tensions and adhesions.
How often should I get a massage?

Frequency of treatments can vary depending on your goal. In general it should be between 4-6 weeks. Some treatments however can be done weekly, for example, a lymphatic drainage massage to improve bloating and reduce excess swelling, or a professional athlete who's training intensely and needs further muscle recovery to improve training. Talk to your massage therapist to see how often you should be getting massaged!

How should I dress?

You can undress the part of the body you wish to work on during your massage while keeping your underwear on. For a more athletic massage, you can wear loose, comfortable clothing and a sports bra if necessary.

Muscular pain after a massage

After a massage therapy session, the body releases toxins into its tissues, which must be eliminated from the body system. Feeling some discomfort or soreness is therefore quite normal. How can you relieve the pain? Remember to drink plenty of water and rest is the key. Some stretching can also help reduce your discomfort. Talk to your massage therapist!

Our prices in massage therapy

Contact us by phone to have more details on our different rates and services. Since we are a private clinic, our prices are not covered by the RAMQ. A receipt for your insurance or taxes can be issued. Should you tip your therapist? Legally, massage therapists are not tipped employees. If you wish to express your appreciation for the care you received, the best tip is to refer your massage therapist to your friends and family or to mention your satisfaction!

The benefits of massage therapy

Well known for relaxation, massage therapy can play a role in relieving musculo-articular pain and muscle tension (such as back, neck or shoulder pain). Certain massage techniques can even help reduce the symptoms of chronic pain (arthritis, fibromyalgia, etc.) Massage also acts on the lymphatic and nervous systems while facilitating blood circulation. This therapy acts as much in prevention of muscular and articular problems as in recovery after a muscular injury (cramps or muscular spams, strains, tears, etc.) Moreover, it favors the healing and the attenuation of muscular adhesions and scar tissue following surgery, for example. Rich in physical as well as mental benefits, massage therapy can also have an impact on mental health, whether by reducing the effects of stress and anxiety on the body or by improving the quality of your sleep.
Some techniques used by our massage therapists
Swedish massage
Swedish massage is a basic technique that aims to relieve muscle tension, activate circulation and calm the nervous system. It is the basis of various massage approaches.

Therapeutic massage
Therapeutic massage uses techniques specific to the injured or painful area of the body. The massage therapist works on the tension and the muscle chains in order to relieve pain and discomfort caused by various problems and to prevent other muscular or articular problems.

Deep tissue massage
Deep tissue massage focuses on the deeper layers of muscle and connective tissue. More than a question about pressure, this method is frequently used for chronic musculoarticular pain and stiffness related to postural problems, muscle tension, injuries and repetitive movements.

Sports massage
Sports massage is naturally intended for athletes, but not only for professional athletes. Anyone who practices a physical activity on a regular basis can benefit from it to prevent the risk of injury, prepare the muscles for exercise, relieve musculo-articular pain or accelerate muscle recovery.

Lymphatic drainage
Lymphatic drainage is a movement directed in the direction of lymphatic circulation. This technique is used for acute or chronic swelling and the massage of the abdomen promotes better digestion and reduces bloating. Lymphatic drainage also promotes healing following surgery and can be used for aesthetic reasons (stretch marks and cellulite).

Massage for pregnant women
Pregnancy brings about many changes in a woman's body and massage therapy allows her to take care of herself and to have a special moment of relaxation. This type of massage reduces discomfort and promotes sleep and recovery.

Myofascial release
Did you know that your body is made up of soft tissues called "fascia"? These are membranes that cover our muscles (myo = muscle) and can be moved in relation to each other.

Myofascial release consists of various manual massage and stretching techniques to relax and release these tensions. Combined with specialized massage therapy or physiotherapy, this therapeutic tool offers optimal results!

Suction cupping
Thanks to the mechanisms of negative pressure (with suction cups), vasodilatation and activation of blood and lymphatic circulation, cupping is an excellent complementary technique to massage therapy and physiotherapy. The suction effect, impossible to reproduce with the hands, lifts and mobilizes the tissue in relation to the fascia and the fascia in relation to the muscle.

Foot Reflexology
Reflexology is a relaxing treatment derived from Traditional Chinese Medicine, in which we use massage and pressure on the tops and soles of the feet to identify parts of the body or organs in energy deficiency. 

These pressures and massage movements help to rebalance and revitalize energy. The first session is preceded by a health assessment to understand any blockages. The treatment ends with a relaxing massage of the lower legs, from the knees to the ankles.
Our professionnals
Danny Guignard-Laurencelle

Massage Therapist

Myriam Méthot

Massage Therapist

Sophie Lambert

Massage Therapist

Pascal Bertet

Massage Therapist