Kinesiology
Kinesiology is a science of movement applied to humans to optimize healthy physical activity on a daily basis.
The kinesiologist is passionate about movement and will guide you towards a healthy and active lifestyle. 
Book an appointment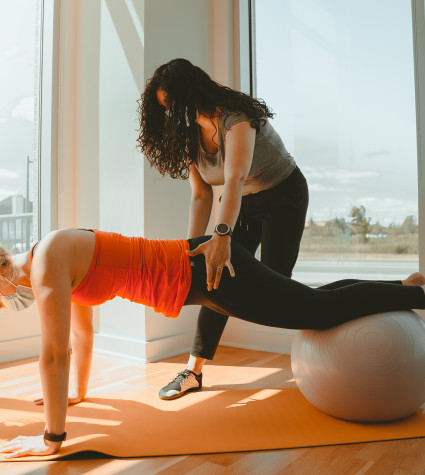 What is kinesiology?
Kinesiology is a science of movement applied to humans to optimize healthy physical activity on a daily basis. Using knowledge of anatomy, biomechanics, physiology, psychology and motor development science, the kinesiologist helps you move better. 
The kinesiologist's main method of intervention is the use of physical activity to promote health, healthy lifestyle habits, injury prevention and even physical or sports performance.
Our kinesiologists are there to help you achieve a healthy and active lifestyle. They listen to your needs and can create  a program that is adapted to your needs and that allows you to reach your goals.
What happens during a appointment?
During your first meeting, the kinesiologist will make a list of your needs and the means necessary to achieve them. A general assessment of your lifestyle and your health is established. The kinesiologist evaluates your cardiovascular, muscular and articular capacities in order to develop a specialized program for you.
The second type of kinesiology appointment is a follow-up session. Whether it's to review the program, to review the technique of certain movements or simply to come and do their training program under the watchful eyes of our kinesiologist, you will live the kinesiology experience to the fullest. Passionate about movement, our kinesiologists will ensure the proper execution and quality of your exercises with active support and positive advice.
Do you offer group classes?

Yes, please visit the group classes page to find out more about the next session!

How should I dress or what should I bring?

Since you will be doing physical training and exercises, we recommend that you dress comfortably (sportswear, proper shoes, etc.) Don't forget your water bottle and your best smile!
Some interesting facts about Kinesiology
The Kinesiologist can help you with any goal: weight loss or muscle mass gain, increase strength and power, improve cardiovascular capacity and any other physical qualities you wish to work on.

The kinesiologist can work with a wide variety of populations (general population, pre-post natal, child, teen, elderly, cardiopulmonary/neuro/chronic disease, etc.)
Our professionnals
Amélie Poirier

Kinesiologist
With a Bachelor's degree in Kinesiology from the Université du Québec à Montréal since 2018, Amélie is part of the Ekinox team as a kinesiologist. Prioritizing self-improvement and the safety for her clients at each session, her approach reflects her passion for physical activity and a healthy lifestyle. She is motivated by the achievement of goals and the integration of movement into her clients' daily lives.

Having always enjoyed playing different sports, Amélie still plays the goalie position in ice hockey. She also enjoys playing broomball, soccer, ball field hockey, biking and cross-country skiing and in between activities, she enjoys reading a good novel to relax.

If you are looking to reach new goals or simply rediscover the pleasure of moving every day, Amélie will be happy to welcome you with a smile and lots of energy!