Chiropractic
Chiropractic is a health care profession concerned with the diagnosis, treatment and prevention of neuromusculoskeletal disorders.
The approach of chiropractic care is both preventive and curative. 
Visit momentum chiropratique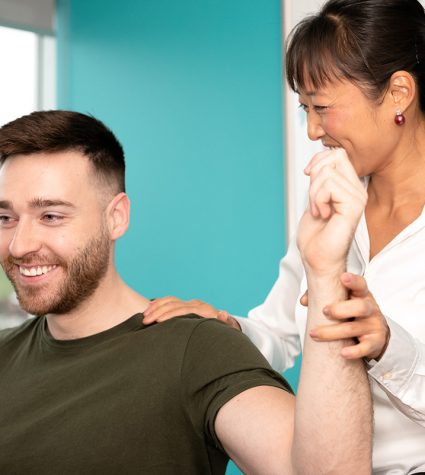 What is chiropractic?
Chiropractic is a natural approach that fits perfectly with the solutions to the growing concerns of Quebecers regarding health and quality of life. 
Chiropractic is a health care profession concerned with the diagnosis, treatment and prevention of neuromusculoskeletal (NMS) disorders, as well as the effects of these disorders on the overall health of the individual.
The focus is on manual treatments, including spinal and joint manipulation and soft tissue techniques. This is often accompanied by exercise prescriptions and various recommendations on ergonomics, lifestyle habits and more.
Chiropractic care is both preventive and curative. Its goal is not only to relieve, but also to prevent the onset of symptoms or pain related to the malfunction of the spine or other joints, muscles and nerves.
To make a chiropractic appointment, contact our partners at Momentum Chiropractic.
What happens during an appointment?
The first consultation with a chiropractor is not done in a few minutes, because the chiropractor must establish a chiropractic diagnosis.
The first step is the clinical interview (anamnesis). During this interview, your chiropractor will ask you to describe the reasons for your consultation, as well as your current and past health status: surgeries, diseases, pregnancies, etc.
To understand the nature of your problem or to perform a neuro-musculo-skeletal (NMS) health assessment, the chiropractor then performs a thorough chiropractic examination. This physical examination typically includes the following, a posture analysis, an orthopedic and neurological assessment, an assessment of your spinal or other joint movements and a muscle palpation.
Sometimes the chiropractor may decide to take x-rays of your spine or any other joint.
Following these steps, the chiropractor will communicate their neuro-musculo-skeletal diagnosis and how it will be managed. The whole process usually concludes with your first treatment to start the process.
Why do we consult a chiropractor? Is it only for back pain?

No, the chiropractor is trained and competent to help you with all kinds of problems with the nerves, muscles, joints and bones in your entire body. Here is a non-exhaustive list of reasons for consultation :

Carpal tunnel

Sprain

Lumbar pain

Headache and migraines

Herniated discs

Chronic pain

Shoulder problem

Bursitis

Epicondylitis

Tendonitis

Jaw pain(

temporomandibular joint - TMJ

)

Rib pain

Ankle and foot pain

Hallux valgus

Plantar fasciitis 

Hip pain

Knee pain

Are there always "cracks" in chiropractic treatments?

No, there are all kinds of treatment techniques that do and do not include "cracking". Your condition, your health and your preference often dictate the techniques used by your chiropractor.

Do I need a prescription from a doctor to consult?

No, the chiropractor is a 1st contact health professional who can see you without a medical prescription.
Faits intéressants :
In order to practice chiropractic in Quebec, all chiropractors must have successfully completed their undergraduate doctoral studies (5 years) in an educational institution accredited by the Canadian Chiropractic Federation (CCF), such as the Doctor of Chiropractic program at the Université du Québec à Trois-Rivières (UQTR).

Upon completion of the Doctor of Chiropractic degree, it is also necessary to pass the Canadian Chiropractic Examining Board's national examinations, as well as the Ordre des chiropraticiens du Québec's legislative and ethical examinations.

All chiropractors are required to complete a continuing education program and to accumulate at least 30 hours of continuing education related to the practice of the profession per two-year reference period.

In Quebec, chiropractors are among the only health professionals who can prescribe, take and analyze x-rays of the entire musculoskeletal system. In addition to the spine, chiropractors can perform radiological examinations of the lower and upper limbs.

Chiropractic adjustment (joint manipulation) is a professional procedure in which the force, direction, amplitude and velocity are controlled.

The primary goal of this procedure is to restore and optimize the mobility of a joint, and to ensure a better balance between the joints, muscles and nervous system.

This manipulation can be performed on the joints of the spine as well as on other joints of the human body. The chiropractor is the health professional who has the most elaborate and complete university training in this field.