Group classes
Activate your well-being!
Our group classes take place in our gym located in the clinic. Sign up for the spring session!
You can register via email at bonjour@ekinox.ca. Please put "Registration" in the subject line of your email.
Contact us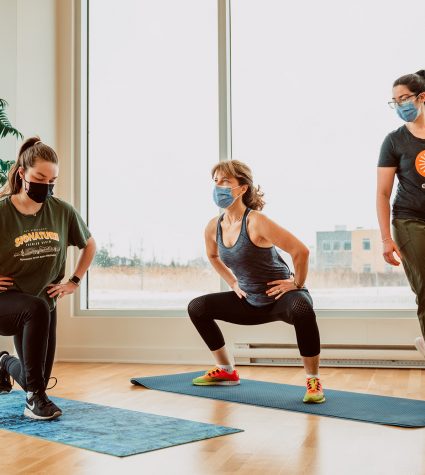 What is a group class like?
Our group classes take place in our gym located in the clinic. For the moment, some of our classes are held partly face-to-face and partly virtual.
When you register in person, we presently have a capacity of 7 participants.
When you register virtually, you can access the group class from wherever you want for the following week, whether it's in your living room or at the park!
What is the next session schedule?

/ The spring Pilates session runs from April 12 to June 21, 2023 (11 weeks). You can register via email at bonjour@ekinox.ca. Please put "Registration" in the subject line of your email, the time of the class you are interested in and if you prefer to register in person or virtually.
Pilates:

Wednesdays 6:15 pm

Wednesdays 7:30 pm 
/ The winter Ekinox Bootcamp session runs from January 30 to April 3, 2023 – 10 weeks. You can register via email at bonjour@ekinox.ca. Please put "Registration" in the subject line of your email. *Minimum of 3 participants to run the class.
What are your prices for the group classes?

The fee for face-to-face classes is $15 plus tax per class for the duration of the session.

The fee for virtual classes is $12 plus tax per class for the duration of the session.

For example, for a 7-week session, the rate is $105 plus tax for face-to-face classes and $84 plus tax for virtual classes.
What classes are available at Ekinox?
Pilates

Pilates is a form of mind-body exercise created by Joseph Pilates in the early 1920s that is practiced by men and women around the world!

Focusing on deep strengthening of the stabilizing muscles of your spine, Pilates helps you keep your back strong and relieve chronic tension and pain. Through fairly physical, but gentle, non-impact exercises, Pilates work especially the lower body muscles (abs, back and glutes), but also the arms, shoulders and hips.

Posture is a focus throughout the class.  Learn exercises to help improve and correct your posture from head to toe. Regain greater mobility by gaining control of your muscle function and improving your strength, power, balance and flexibility so you can do whatever you are passionate about!

Expect to stand, sit, lie down on your back, your front, your side, rock, glide and rotate your body. No shoes are required. Although this is not a cardio class, it is possible that some of the exercises will increase your heart rate.

Ekinox Fitness Mom-Baby

Optimize your postpartum fitness by slowly integrating physical activity into your family routine with your baby. This class is for new moms and is the perfect opportunity to get active and take care of yourself after giving birth.

This class combines various exercises using your body weight, free weights and elastics to challenge the major muscle groups. You will move with your baby in order to strengthen and improve your cardiovascular and muscular capacities. Amélie, our specialized kinesiologist, is happy to adjust the exercises to your needs and motivate you to progress towards your goals in a dynamic and safe class. You will quickly see the benefits of physical activity in your daily life and enjoy a wonderful moment with your child.

Ekinox Bootcamp

Let's activate your well-being in the great outdoors! Classes are held outside during summer (details upon registration) – in case of bad weather, classes will be held in the clinic.

Come and exceed your limits in a complete, effective and fun workout. Our Ekinox Bootcamp class is a circuit-based workout that combines muscular endurance and strength, stability and core exercises with a cardiovascular workout. Through a variety of exercises, you will work your body in a class that suits your needs. These classes are offered to all clients since it's supervised by a certified kinesiologist who will adapt the exercises to the reality and the physical level of each and everyone. From beginner to advanced, mom with a stroller or simply for those who love to move in the outdoors, let's develop your physical potential!

Sweat and fun are guaranteed!
Our professionnals
Sherry Owen

Pilates Instructor

Amélie Poirier

Kinesiologist
Sherry fell in love with Pilates 18 years ago when she remedied her chronic back pain with Pilates! Her desire to help others experience the benefits that Pilates can provide, led her to become a certified instructor. Sherry strives to have each student experience how Pilates exercises enable them to achieve more freedom of movement, strength and support to do whatever it is you are passionate about!

Sherry is certified with Body Harmonics, and continues to expand her depth of knowledge integrating and adapting the benefit of Pilates for specific conditions concerning the spine, hips, shoulders and neurological conditions such as Parkinson's, multiple sclerosis, and stroke. She is currently following an education path to achieve a Pilates Post-Rehab Specialization.

Teaching group and private classes since 2005, Sherry is very experienced at adapting exercises to accommodate a multitude of conditions/injuries. She has a calm and motivating style of teaching that will challenge you, help you move and feel good!
With a Bachelor's degree in Kinesiology from the Université du Québec à Montréal since 2018, Amélie is part of the Ekinox team as a kinesiologist. Prioritizing self-improvement and the safety for her clients at each session, her approach reflects her passion for physical activity and a healthy lifestyle. She is motivated by the achievement of goals and the integration of movement into her clients' daily lives.

Having always enjoyed playing different sports, Amélie still plays the goalie position in ice hockey. She also enjoys playing broomball, soccer, ball field hockey, biking and cross-country skiing and in between activities, she enjoys reading a good novel to relax.

If you are looking to reach new goals or simply rediscover the pleasure of moving every day, Amélie will be happy to welcome you with a smile and lots of energy!