Osteopathy
Our experienced team of osteopaths can prevent and relieve many discomforts and aim to restore the balance between all systems of the human body.
Osteopathy considers the person as a whole. Each osteopathic treatment is therefore different and individualized.
Book an appointment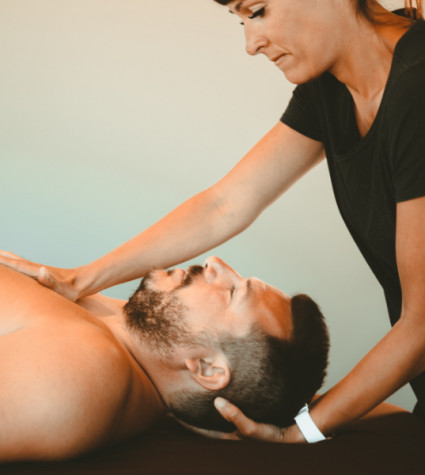 The strength of our team of osteopaths
At the Ekinox clinic, our osteopaths (among the most experienced in Vaudreuil-Soulanges) passionate about their profession. The members of our team, mostly feminine, have extensive knowledge of health sciences and the interrelation between all systems of the body.
The role of our osteopaths is to analyze what you are experiencing in a global way and to propose an appropriate osteopathic treatment.
Working in an interdisciplinary team, your osteopath does not hesitate to refer you to other health professionals when your condition requires it.
What happens during an osteopathic session?
During the first meeting, a complete and global evaluation of your state of health and the discomfort that brings you to consult allows your osteopath to investigate the cause of neuro-musculo-skeletal, visceral and cranial dysfunctions. This information guides your osteopath in their evaluation through palpation.
What does your osteopath do next? Through gentle and precise mobilizations, your osteopath adapts his intervention plan according to the pre-established osteopathic evaluation.
Since it is a global approach, it is not surprising that your therapist works on areas further away from those where you have discomfort.
Who is osteopathy for?

Our osteopaths work with people of all ages, from infants to the elderly. A wide range of people use osteopathic services, whether it is during a convalescence or a rehabilitation period. Athletes can also meet with an osteopath to relieve various discomforts in the muscles and tendons. Our osteopaths can also help relieve tension on the body during pregnancy and even works with postpartum and newborns. In fact, osteopathy is a gentle approach to treating children and babies at all stages of development.

What is the difference between osteopathy and physiotherapy?

The difference is mainly between the philosophy and the fields of expertise of each of these professions. If both can help you and are complementary, then it is a matter of personal preference. Therapists know their areas of expertise and can refer you to another discipline when necessary. This is the main advantage of our interdisciplinary team!

Our definition of osteopathy

Osteopathy is a manual approach based on prevention and improvement of your quality of life. The goal is to restore the balance of the organism and the proper functioning of the different systems of the human body in order to relieve symptoms causing discomfort.

For more details, visit the

Ostéopathie Québec

website.

What are our prices in osteopathy?

Our prices vary depending on the service or the professional. Since we are a private clinic, our prices are not covered by the RAMQ. In osteopathy, we can provide you with a paper and/or email receipt and then, we invite you to make the claim yourself for reimbursement with your insurance company.

You can contact us by phone to get more details on our different rates and services.

Why consult an osteopath?

Our experienced osteopaths can prevent and relieve many discomforts of the neck, head, back and stomach, help with sleep-related problems and more.

Prevention and the improvement of quality of life are therefore at the heart of this approach, which promotes global health and well-being. Osteopathy allows us to regain a better balance and optimal functioning.

Is it normal to feel pain after an appointment?

It is normal to feel some discomfort during certain techniques. Your osteopath works with you while respecting your limits and remains attentive to your needs.
Our professionnals
Louise Denoncourt

Osteopath

Muriel Mouneyrac

Osteopath

Camille Pharand Tourillon

Osteopath

Annie Bourbonnais

Osteopath
Amanda graduated from the College d'Études Ostéopathiques (CEO) of Montreal in 2016. She's passionate about health, physical and mental well being. She has a fond interest in Somato-emotional osteopathy which is a gentle approach with the aim of establishing a body and mind harmony.

After practicing horseback riding for 21 years and being passionate about running and pilates, Amanda is conscious of the impacts and stakes that comes with sports injuries and the importance of prevention and the treatment with the aim of being able to practice your sport with the best of your ability.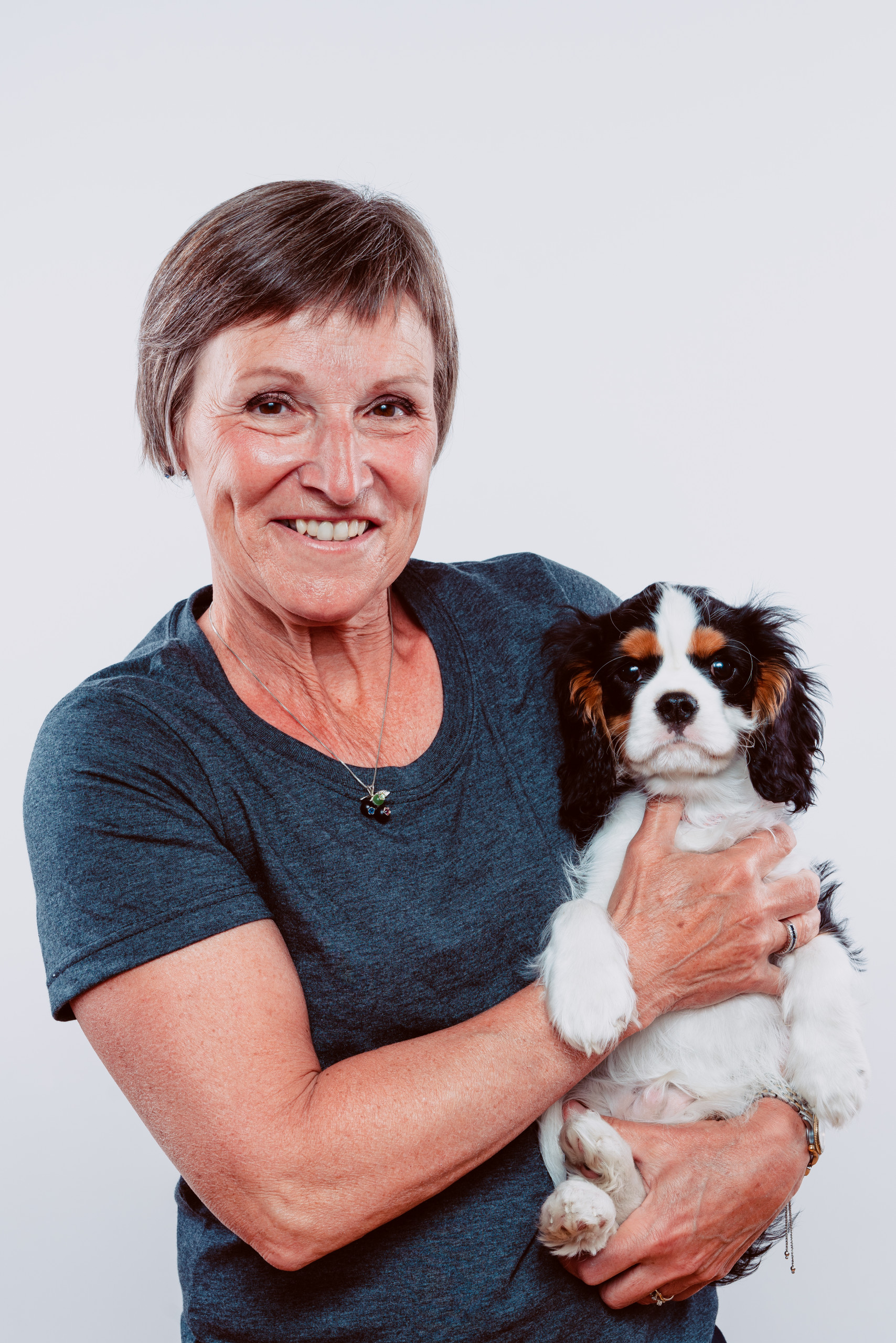 Louise Denoncourt
Osteopath
A long career! Following her Bachelor's degree at Laval University, Louise worked for many years as a physiotherapist in hospitals, private practice and CLSC. While being involved with her four children, she felt the need for a change. After 6 years of studies/work/family, she completed her diploma in osteopathy and has been working since 2006 in this exciting field, with equally exciting people.

Her extra-professional activities are as numerous as varied. Now working part-time, she can devote her time to shower her children and grandchildren with love, to participate in sports such as tennis, biking, hiking, downhill skiing, cross-country skiing, snowshoeing (anything outdoors!) and individual workouts, to travel (when it's allowed again!) as well reading, when she finds the time!
Muriel graduated as an osteopath in France. She is a certified osteopath D.O. since 2005 (full time training of more than 4000 hours meeting the WHO criteria).

Having practiced classical dance for nearly 15 years, she naturally turned, at first, to the sports field (athletics, rugby…). Thanks to these experiences, she was able to provide osteopathic follow-up to high-level athletes (Pôle Espoir Judo - France) over several years within a multidisciplinary team. Afterwards, she practiced at her own clinic for nearly 10 years. These different experiences have allowed her to work with clients of all ages and backgrounds.

She has enriched her practice over the years by following various professional trainers such as Jean-François Terramorsi and Gilles BOudehen. She is also a member of the RITMA association.

To fill up on oxygen, Muriel enjoys walking and observing the fauna and flora around her; and when it's time to relax, a good book is never far away!
Camille studied osteopathy at the Centre Ostéopathique du Québec (COQ) in order to deepen her knowledge and skills in anatomy, injuries, rehabilitation, as well as in several related fields. She also holds a bachelor's degree in kinesiology and a diploma in Swedish massage from the Académie de Massage Scientifique de Montréal (AMS). Camille is driven by her strong desire to help people. All of her knowledge guides her practice in order to obtain a studied and effective approach. 
A lover of outdoor sports and with an artistic background in classical and contemporary dance, she wanted to "understand" the human body, the effects of training on health and finally put her knowledge and passion to work for others. As a kinesiologist, she is an enthusiast of the benefits of physical activity in our lives. According to her, a balanced life is achieved by reconciling sports with family and leisure activities.
 Her training: 



Osteopathic Center of Quebec, 2016 to 2022




University of Quebec in Montreal, 2011 to 2014




Academy of Scientific Massage, Montreal, 2017



A graduate of the École professionnelle des ostéopathes du Québec (ÉPOQ), Annie is committed to your well-being and to improving your quality of life. Adopting an inclusive practice, she listens to you and will meet your needs to help you regain optimal overall health.
Passionate about her profession, she seeks to always learn more about the human body and brain. She has also developed a great interest in perinatal and pediatric clients.
In order to keep a balance in her busy life, Annie recently started meditation. It is this mental practice that keeps her both feet on the ground and, among other things, has greatly helped calm her anxiety. Mental health is just as important as physical health, and this is the way Annie has found to balance her daily life. She cherishes her moments of guided meditation with an essential oil diffuser.
Passionate about the human body and health, Éliane began her studies in osteopathy at the Collège d'Études Ostéopathiques of Montreal in 2019. She is currently a 5
th
year student and will graduate next summer.
During her osteopathic treatments, Éliane uses a gentle approach that considers both the physical and mental body. Whether it is for physical aches, digestive issues or cranio-sacral problems, her approach takes into consideration the human being as a whole and aims at restoring mobility and the body's self-regulation capacities. She also considers the importance of injury prevention by taking care of the body and restoring mobility.
For Éliane, the outdoors and physical activity allow her to take care of her well-being, both physical and mental. It is not uncommon for her to go camping to rest and enjoy nature!