CNESST, SAAQ & Federal programs
Have you been injured on the job, had a car accident or are you a member of Veterans Affairs Canada, the Canadian Armed Forces or the RCMP? We can take care of you!
Learn more about the procedure to follow according to your situation.
Contact us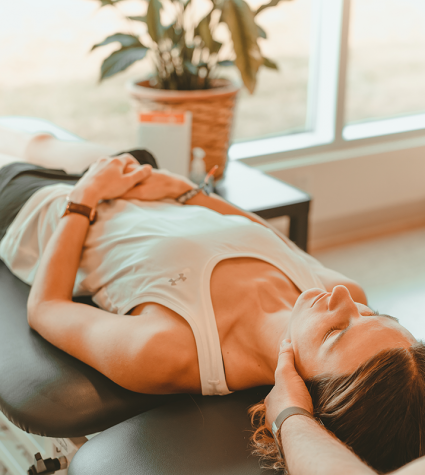 To open a file or for any questions related to CNESST, SAAQ or federal programs, it is important to call us, as we must follow a precise administrative protocol.

CNESST: Were you injured at work?
If you were injured while performing your duties or if you developed a work-related illness, your healthcare may be covered by the CNESST.
After reporting your work accident or your work-related illness to your employer, you will need to submit your Worker's Claim to the CNESST. If you also have a CNESST medical report completed by your doctor, you can receive the necessary health services (physiotherapy, occupational therapy, acupuncture or psychoeducation) for your physical and professional rehabilitation.
SAAQ: Have you been in a car accident?
We will do everything in our power to make things easier for you and help you take care of your well-being. If you have been injured, you can report your accident to the SAAQ in order to open a compensation file. 
The Quebec public automobile insurance plan (SAAQ) provides financial compensation for various private healthcare services that you may receive following a car accident, such as physiotherapy, occupational therapy, acupuncture or psychoeducation.
All you have to do is open a file with the SAAQ. Once you have a file number and a prescription from a doctor, we can apply to the SAAQ for authorization to begin your treatments.
Are you a member of Veterans Affairs Canada, the CAF or RCMP?
If you are a member or veteran of the CAF or RCMP, or a family member, you are entitled to certain benefits at our clinic to care for your well-being.
Find out more about the programs and services offered by DVA at https://www.veterans.gc.ca/eng.
I need to cancel or change my CNESST or SAAQ appointment. What should I do?

As mentioned in our cancellation policy, if you cancel

more than 24 hours in advance

, you will not be charged as we can offer your time slot to another client. To cancel or reschedule your appointment, you can contact us by phone or email. It is also possible to leave a message on our voice mail during our closing hours.

In addition to our cancellation policy, after three late cancellations or no-shows for a CNESST or SAAQ related appointment, Ekinox reserves the right to close the file.

What documents do I need to bring to my appointment?

We will confirm all the necessary information when you make your appointment over the phone.

Overall, you will need to provide a prescription and your CNESST or SAAQ compensation file number, or your membership number for one of the federal programs. For CNESST claims, we also require a copy of your Worker's Claim.