Physiotherapy
The physiotherapist helps to restore, maintain or improve an individual's mobility, function and well-being.
Physiotherapy is a health science whose role is to optimize your physical abilities by preventing, treating or relieving your pain whether it is related to an injury, an illness or another cause..
Book an appointment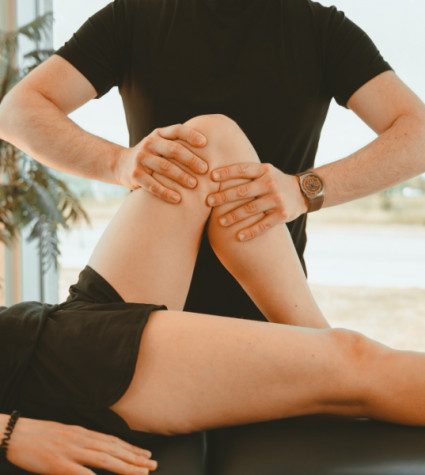 What is physiotherapy?
Physiotherapy is a health care profession that can help you prevent, treat or alleviate various physical health problems that may result from injury, illness or other causes.
 Physiotherapy helps with physical rehabilitation, injury prevention and optimizing your physical abilities. Our experts take you through all phases of recovery, from the initial diagnosis to the restorative and preventive stages of healing. Through a physical approach including manual treatments, exercises, electrotherapy or thermotherapy, physiotherapy aims at physical and mental well-being by considering your health conditions and the development of your full potential.
 Our approach is personalized and centered on the individual, whom we accompany throughout their progress. In collaboration with your physiotherapist, you work towards your goals.
What happens during an appointment?
Your physiotherapist's role is to get to know you and understand your problem and the reasons for consulting. During your initial assessment, your therapist will build a portrait of your conditions and your physical abilities and functions. Through physical tests and the use of appropriate techniques and exercises, your therapist aims to establish the cause of your problem and make a clinical impression. Together, you will establish a treatment plan that respects your expectations and goals.  Your physiotherapist will accompany you throughout your evolution, answering all your questions and concerns while offering you valuable advice and exercises so that you can actively participate in your rehabilitation.
Who is this service for?

Physiotherapy is for people of all ages. Whether you are doing a recreational activity or experiencing pain with movement; whether you are an elite athlete, suffer from an injury or chronic pain, or are entering a new stage of life (e.g., pregnancy), our experts can help.

What is a physiotherapy technologist?

Physiotherapy professionals include two professions, the physiotherapist and the physiotherapy technologist. The physiotherapy technologist is involved when the client's condition has already been assessed by a physiotherapist or when the physician has already established a treatment plan. The physiotherapy technologist will work with you to develop and implement the treatment plan and to monitor it. He or she can also provide advice and exercise programs to help you activate your well-being.

The strength of our interdisciplinary team

Our physiotherapists will refer you to other professionals when necessary. Through the strength of our interdisciplinary team, we offer you all the services you need to activate your human potential, all under one roof.
Some interesting facts about physiotherapy
Did you know that you are at the heart of the treatment and play an active role in your rehabilitation? Physiotherapy aims at empowering the client to improve their quality of life.

Each session and treatment plan is unique and based on your own personal expectations and goals.

Did you know that you don't need a doctor's prescription to see a physiotherapist? The majority of insurance companies cover reimbursement without a medical prescription. However, a minority of insurance companies may still require a doctor's referral for reimbursement of treatment. Ask your insurance company!
Our professionnals
Aditi Kapoor

Founder & Physiotherapist

Andrea Dewar

Physiotherapist

Célia Sutter

Physiotherapist

Francis Rolko

Physiotherapist

Johanie Dubé

Physiotherapist

Judith Addison

Physiotherapist

Marie-Andrée Dufour

Physiotherapist

Maxime Besner

Founder & Physiotherapist

Mélanie Lévesque

Physiotherapy technician

Stephanie Baker

Physiotherapist

Sylvie Pirard

Physiotherapist

Chloé Mériau

Physiotherapy technician