Physiotherapy
Concussions
A concussion is not always critical, but should always be taken seriously.
Physiotherapy can greatly assist in the assessment and treatment of mild traumatic brain injury (mild TBI).
Book an appointment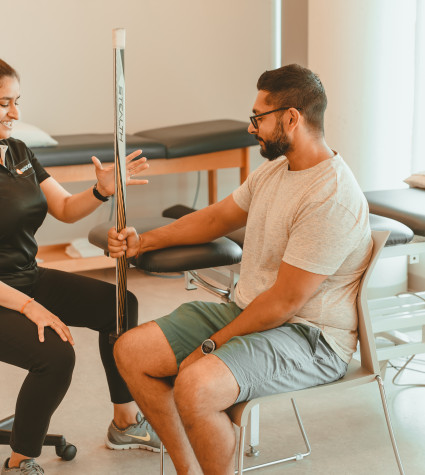 What does treating a concussion entail?
Concussion (or mild TBI) is suspected when a blow to the head or body occurs that induces an acceleration of the brain and causes at least one symptom from an established list.
 Many symptoms may appear such as headaches, neck pain, nausea, vomiting, dizziness, blurred vision, difficulty concentrating, lack of energy and fatigue, irritability, sadness, anxiety and much more. There is no diagnostic test to establish a concussion, it is more of a functional disturbance than a structural damage to the brain.  Imaging tests (CT, MRI) are done when we want to ensure there is no intracranial bleeding.
What happens during an appointment?
If you suspect you have suffered a concussion, it is important to rest and make an appointment with your health care professional who has expertise in concussions (doctor, physiotherapist, athletic therapist, other). 
During a physiotherapy evaluation, the therapist ensures that the client does not present any condition requiring an emergency medical consultation. He evaluates and treats, among other things, the neck and vestibulo-oculo-motor abilities. The physiotherapist can establish a protocol with recovery phases specific to each activity whether it is school, work or return to sport. With the help of manual therapy and the prescription of exercises (cervical, respiratory, cardiovascular, visual, etc.), physiotherapy optimizes the recovery from a concussion.
The cumulative effect of multiple concussions

Proper recovery from each concussion is the best way to avoid the adverse effects of multiple concussions. A person becomes more vulnerable to subsequent concussions and may experience more severe or persistent symptoms and a longer recovery time.

The importance of a « baseline » for athletes

The pre-season evaluation, also called "baseline", is a set of objective tests that assess a variety of dimensions (history, memory, strength, speed, etc.), which together can be used to re-evaluate the complete rehabilitation of the brain before a safe return to sport. If you run a sports team and would like to offer this preventive service to your players, contact us and we can organize consecutive sessions for the players. 
Interesting facts :
The most recent studies show the sooner people seek help after a concussion, the faster they recover.

It is false to believe that only time will heal a concussion. Consulting an expert remains your best solution to ensure a proper recovery.

The physiotherapist's role may also be to ensure the health and safety of athletes in sport activities.
Our therapists
Maxime Besner

Founder & Physiotherapist

Célia Sutter

Physiotherapist

Marie-Andrée Dufour

Physiotherapist

Johanie Dubé

Physiotherapist