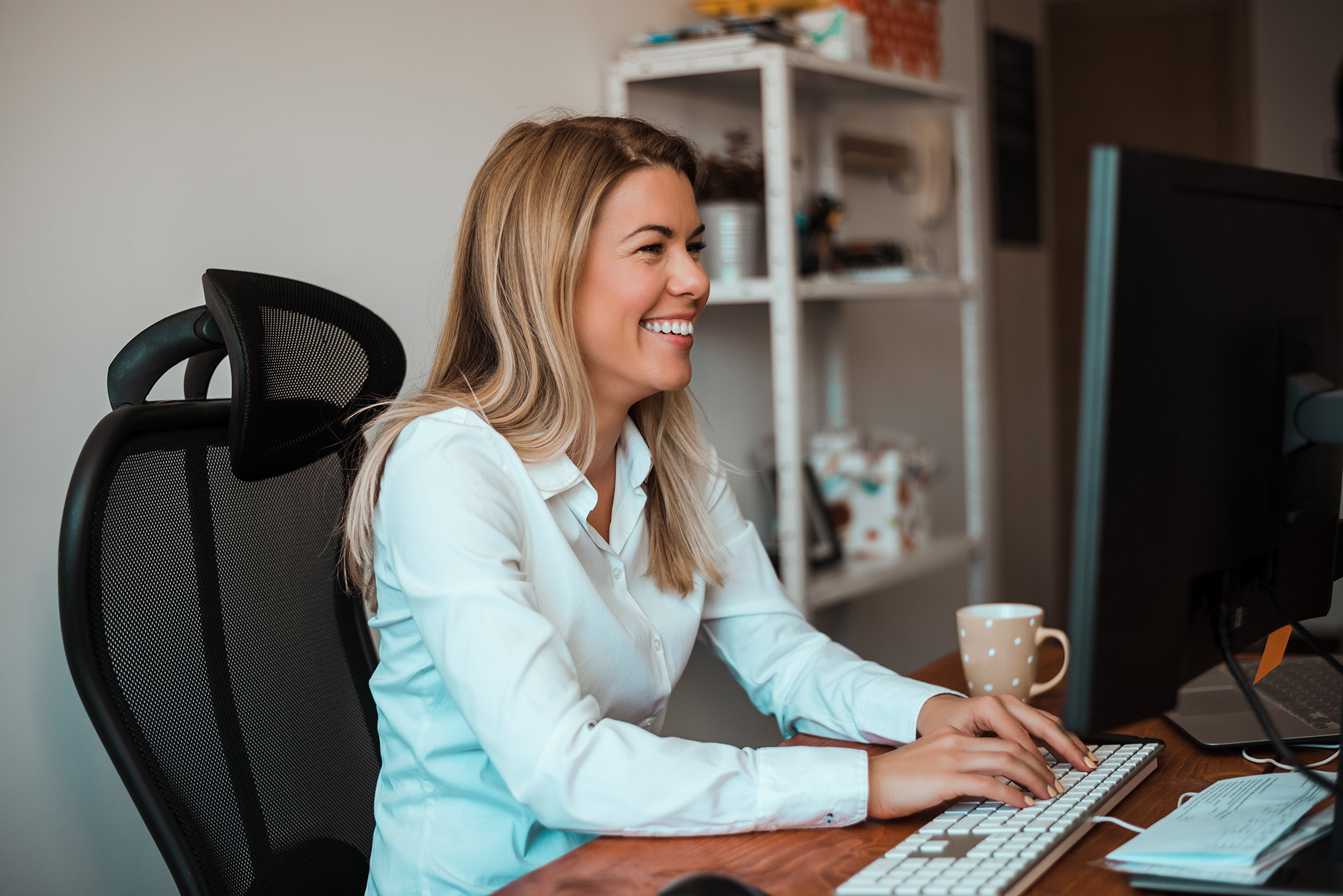 With more people working from home in the past couple of years, how to properly adapt your workstation becomes essential. Problems related to the organization of your work space at home have become more common, and can cause pain and tension in the neck, shoulders or back.
How to adapt your workstation?
To make sure your workstation at home is set up properly and that your posture is as comfortable as possible, here are some tips:
Use an adjustable chair with a backrest to adjust the angle of the seat, the height and the tilt. For the best support, the back should be well-supported on the backrest with lumbar support if needed.

Make sure your forearms are well-supported by adjusting the height and width between the armrests. If your armrests are not adjustable, rest your forearms on your work surface.

Place your computer screen at an arm's length, and the top of your screen should be at eye level.

To prevent pain and tension from building up throughout the day, make sure your chin stays tucked in, and your head is above your shoulders (instead of being pulled towards your computer screen).

Relax your shoulders and try to keep your shoulder blades down and back as you work. You'll avoid creating any tension in the muscles at the top of your shoulders.
To help you adjust and set up your workstation, the CNESST offers you this useful checklist (French only)!
You can also consider using a sit-stand desk, a good option to increase energy expenditure during the day, but especially for better back health and strengthening the musculoskeletal system. Visit our Facebook page for some tips from Camille Pharand-Tourillon, osteopathic intern and kinesiologist.
Some exercises for your well-being
Another essential way to reduce tension is to take regular breaks to move around, change positions or do some stretching of the neck and arms. Here are some exercises you can do during your breaks to counteract the effects of working at a desk for long periods of time.
Wall posture
Standing with your back against the wall, knees bent slightly, slowly press your lower back against the wall going upwards and making sure each vertebra flattens and touches the wall behind you until you get up to your neck. While keeping contact with all of your back, make sure the back of your head is touching the wall while keeping your gaze horizontal (no tilting the head up or down). Now, bring your shoulders back to touch the wall, again without taking your back off the wall. Next, bring the backs of your arms against the wall and slide them gently up the wall as far as you can comfortably go without losing any of the previous steps. Hold for a few breaths and repeat.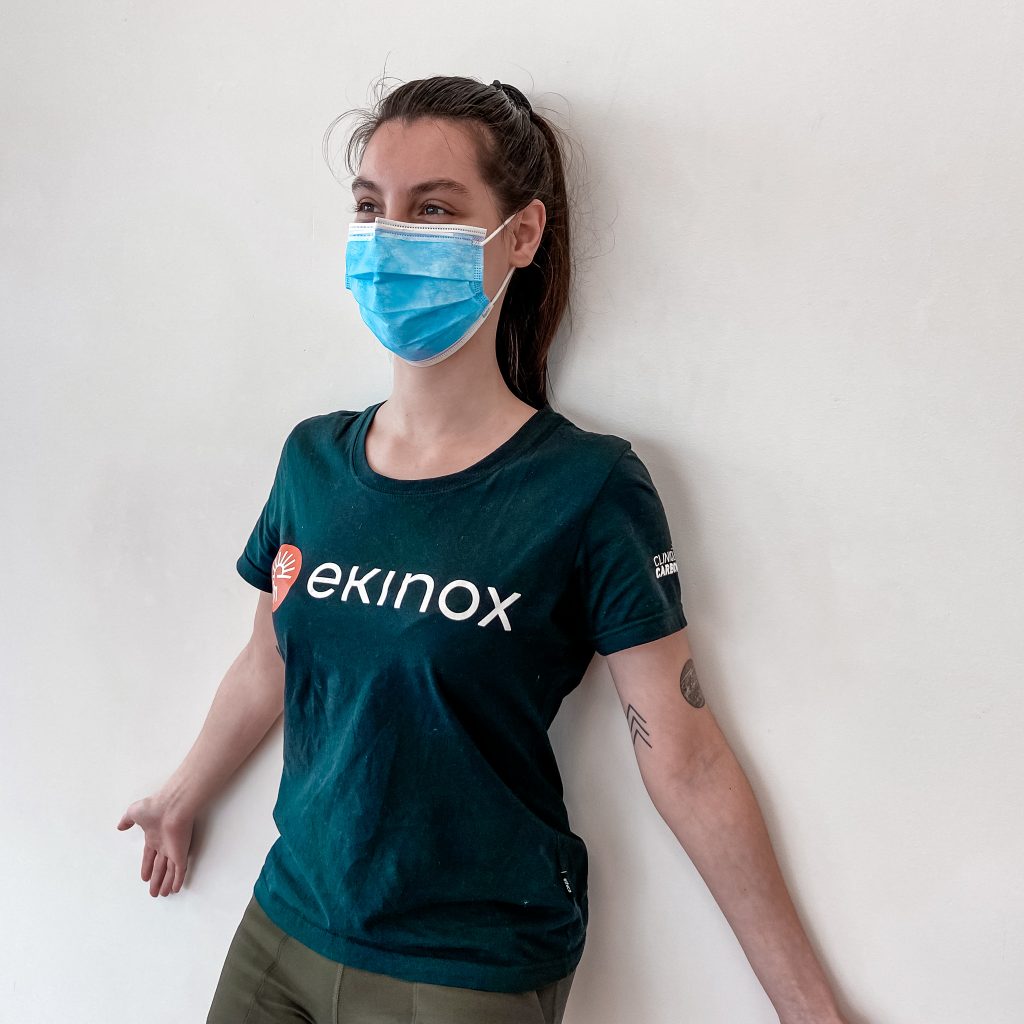 T Stretch
Lying on the ground, place a foam roller or rolled up towel along your spine. With your legs out flat or slightly bent, let your arms fall out in a "T" shape to open up the front of your chest. You can use a yoga block to support your head. Stay for a few breaths and repeat as needed.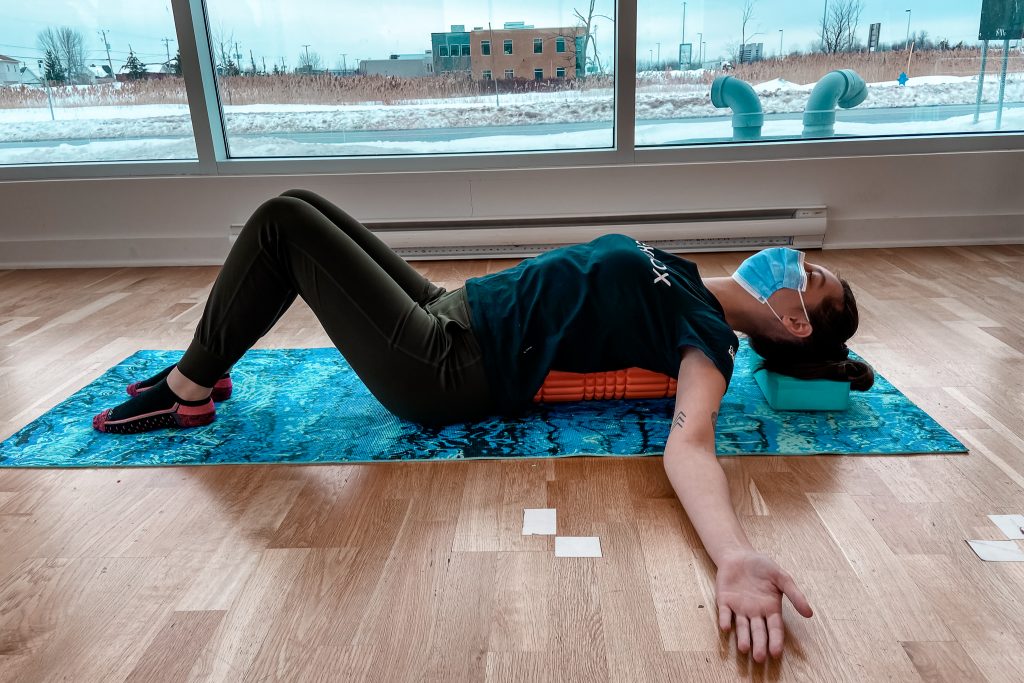 Chin tucks
Lying on your back, gently tuck your chin in as if you were nodding "yes" or as if someone were pulling a string attached to the back of your head. Try holding in this position for 5-10 seconds. If this is effortless, you can add a layer of difficulty by gently lifting your head without losing the chin tuck. Hold 5-10 seconds and repeat.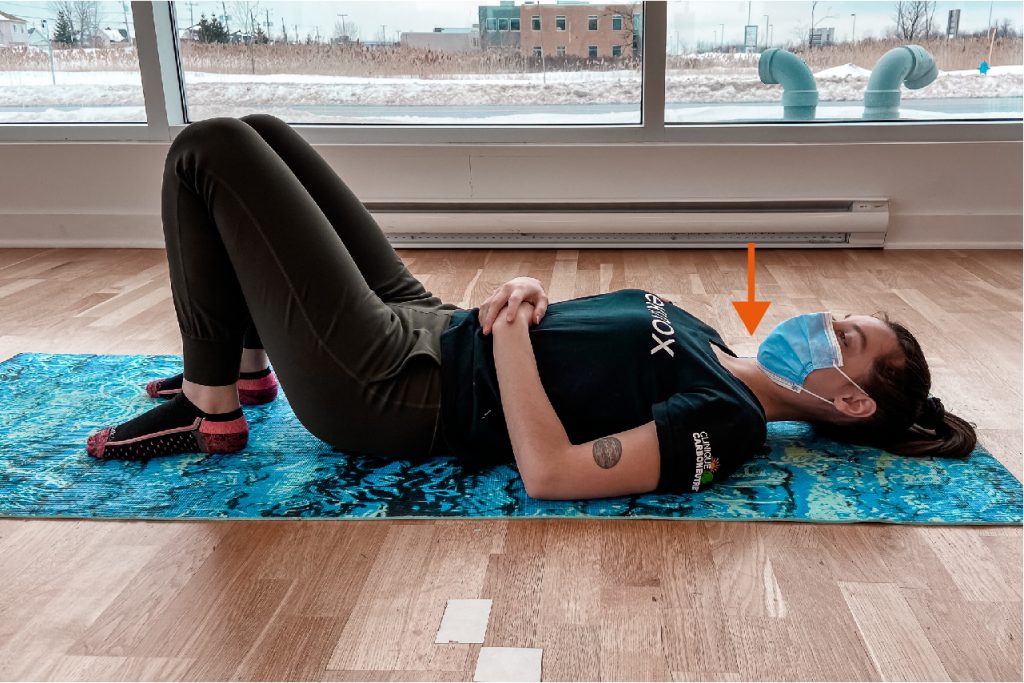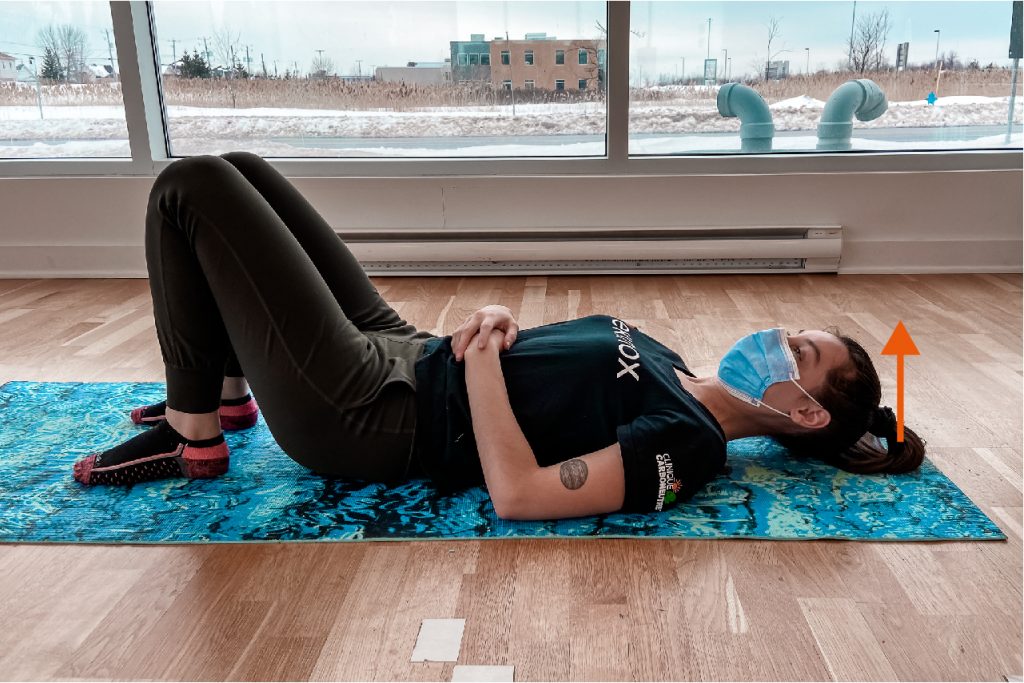 Pec stretch on the wall
Hook your arm against a doorframe with your arm out horizontally and your forearm resting vertically against the frame. Gently lean forward and turn away from your arm to get a stretch on that side. You can also do both arms at a time, depending on the size of your doorframe.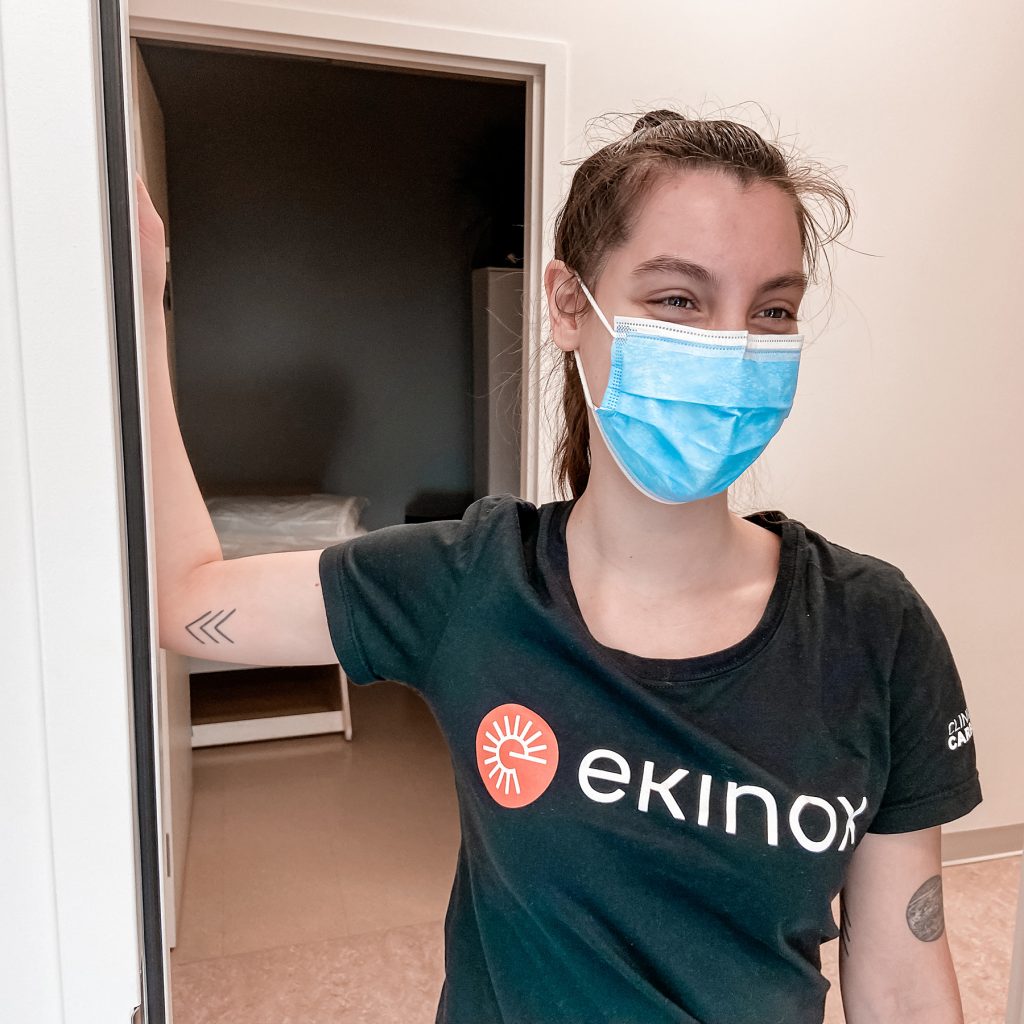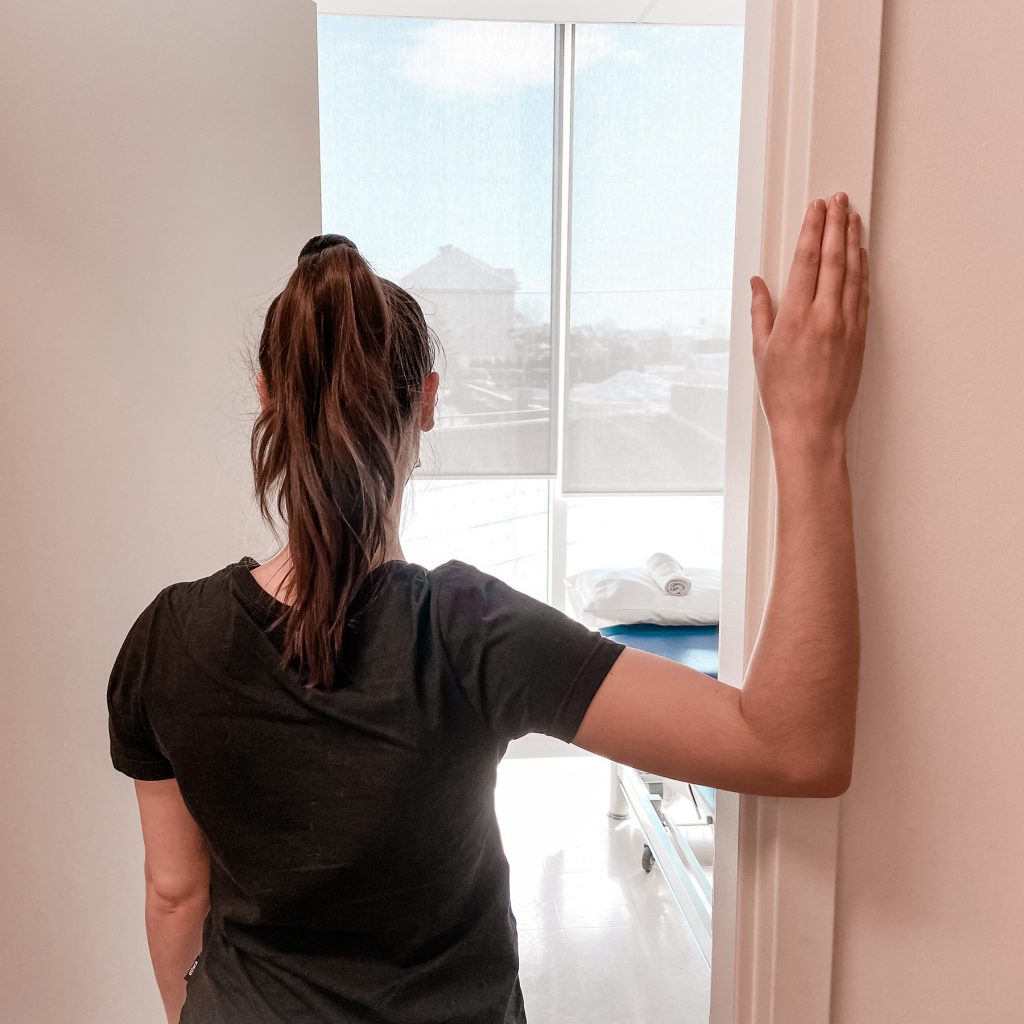 Scapular setting
Sitting or standing, draw your shoulder blades together and towards the bottom of your back. Keep your abs engaged to avoid arching your back. Imagine a big "V" connecting your shoulder blades to the bottom of your spine. Try to hold for several seconds and repeat.