Occupational Therapy
Hand Therapy
Recover your hands' mobility and function through rehabilitation in occupational therapy.
Our occupational therapists recognize that beyond movement and strength, hands play an essential role in your participation in your meaningful activities.
Book an appointment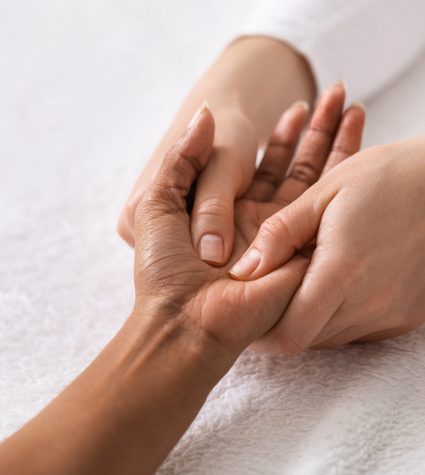 Hand therapy in Occupational Therapy
Occupational therapists recognize that participation in activities is essential to living and most of the time, that requires the use of hands. Beyond movement and strength, hands play an essential role in our daily living. Occupational therapists who provide hand therapy are able to bridge the gap between medical management to functional recovery.
The occupational therapist provides wound care in clinic, education for wound management, hand exercise program and orthotics (supplied by 3rd party). In addition, they work with your orthopedic surgeon or plastic surgeon and various effective protocols to ensure the safety of mobilizations, post-surgical exercises and other modalities to reduce swelling, stiffness, and pain.
What can be treated in hand therapy?
Occupational Therapists provide non-operative interventions, preventative care and post-surgical rehabilitation for a wide variety of hand conditions.
Some of the more common conditions include ;
• Tendon/Ligament repair and reconstruction
• Amputations
• Fractures (closed or open reduction)
• Joint reconstruction and replacement (arthroplasty)
• Dupuytren's disease
• Tenosynovitis (trigger finger, deQuervains)
• Burns
• Complex Regional Pain Syndrome (CRPS)

Did you know?
Occupational therapists specialize in hand therapy moreso than physiotherapists.

To maximize the potential of your hand post-surgery, you need to start treatment sessions 3–5 days after surgery and not wait months.